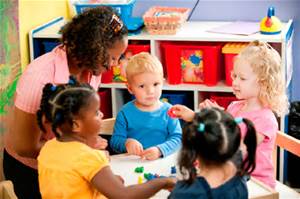 Becoming a Registered Family Child Care Provider:
 A person planning to serve three (3) or more children for more than three (3) hours a day on a regular basis must obtain a registration certificate or license. To obtain this certificate or license, the applicant must show that the child care program meets requirements that the state has established to help ensure the health and safety of children in care. Advantages of Becoming a Child Care Provider Work in your own home Set your own fees, hours, and choose your own clients Reimbursement for meals/ snacks served to children through the NYS dept. Of health CACFP Free referral service Pre-licensing information: Attend an Online Orientation Those interested in starting the process of becoming a family day care provider in their home or opening school age child care site in a commercial building, must attend an orientation session. This is done online.  Click on the link below to access the orientation.
http://ocfs.ny.gov/main/childcare/techreq.asp
: Child care center and group family programs are handled by the Spring Valley regional office - contact (845) 708-2498. Health & Safety Competency Training In 2001, Quality Care Act was signed into law. As a result all prospective providers must pass a required 15 hour health and safety course. The fee for this training through the council is $275. CPR/FA All prospective providers must pass infant, child, adult, CPR and FA. The fee for this training through the council is $85.00 Pre-Service/Orientation Health & Safety Five Hour Training Requirements: Called Foundations in Health & Safety This federal law requires certain child care employees and volunteers to complete health and safety training by September 30, 2017. These requirements have been adopted as emergency regulations in title 18 of the New York state code of rules & regulations and a notice of proposed rulemaking appeared in the state register on March 20, 2017. Which employees and volunteers are affected by this federal law? • Caregivers in FDC and GFDC programs (providers, assistants, substitutes) • Caregivers in small day care centers (providers, assistants, and substitutes) • Directors in day care centers and school age child care programs • Teachers and assistant teachers in day care centers and school age child care programs • Substitute teachers and substitute assistant teachers in centers and school age child care programs • Volunteers in all programs, who have the potential for regular and substantial contact with children at the child care program • Legally-exempt group, family & in-home providers, caregivers, employees, & volunteers To implement this new federal requirement, OCFS developed an e-learning session that satisfies all required health and safety topics, called Foundations in Health & Safety. There is no charge for the training, which can be found at: 
http://www.ecetp.pdp.albany.edu/elearn_catalog.shtm. To start the training and receive the certificate of completion, each individual must create an early childhood education and training program (ECETP) account with the professional development program (PDP). Accounts can be set up in minutes and require only a little information.
Start –up Grants
The Council may have funds available if you are applying for an initial group/family license/registration. There is limited funding available. Grants will be prioritized to providers based on: • Located in a specific underserved area as identified in the council's community needs assessment • Serving infants, toddlers and/or low income families • Providers serving nontraditional hours i.e. Evening, overnight and weekends • When you may have previously received a grant from the council • Need for safe and quality items, i.e., tables and chairs, changing table, cribs, and/or a compliance need has been identified during a recent inspection visit.
The Council may have startup monies available as well. Contact (845) 294-4012 x222 for more information.