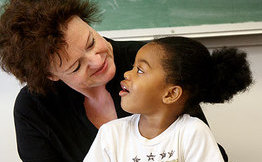 The Council can guide you to the information you would need to implement the following services for your employees:
• Flexible Spending and Dependent Care Assistance Accounts-Set up as an additional benefit, these accounts help to ease the employees' fees for child care and medical/dental costs that are not covered by insurance. Not only do these accounts help promote your employees peace of mind, but they can also help you and your employees save on taxes.
• Contributions to Local Child Care Programs- You can provide financial or in-kind contributions to a new or an existing child care program that your employees are using. Contributions can include cash, equipment, and/or training fees for the professional development of the child care staff. Contributions made to specific programs that employees use help to enhance reliable, quality child care and offer you good public relations without a large cost.
• Backup Child Care- Offering employees backup child care for emergency, illness, or temporary care, either on-site or through reserving slots, is a growing trend. Companies report that the cost of providing backup care is low and the payback high, with increased employee retention and productivity.
• On-Site Child Care- Employers may create a child care program at or near the workplace. An employer-sponsored program may be as a division of the parent company, a subsidiary corporation, or an independent corporation. On-site child care offers your employees accessible care resulting in decreased stress and increased morale. It is an expensive option; however, it is a highly visible public relations tool.
• Programs Developed in Consortium with Other Employers- Consortium initiatives have the benefits of sharing expenses as well as more secured utilization of slots, but special effort must be involved to ensure on-going cooperation among members.
• Tax-Deductible Contributions to Local Non-Profit Child Care Programs